We're not foodie professionals, just placemakers that live, work, build and breathe Ancoats, so we thought who better to write an honest roundup of the top 10 nicest places to eat in Ancoats, Manchester? From street food to Michelin Star restaurants, here is a list of places you must try if you're thinking of visiting Manchester's coolest neighbourhood, Ancoats Urban Village. 
1. The Counter House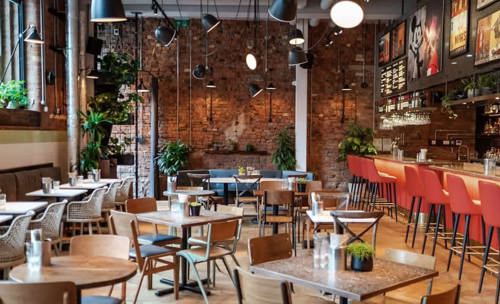 Love is a strong word, but we really do love the team over at The Counter House (TCH), from the front-of-house teams to the chefs, they never fail to make dining out such a pleasurable experience. The Counter House is one of those staple restaurants you can rely on to have a buzz about it and for everyone in your party to find something they're after. For us, the best time to visit is late afternoon, you can choose to have a couple of drinks, alfresco dining or something a bit formal indoors, either way, you're going to want to come back and that's why we've chosen THC is our number one choice in Ancoats, come rain or shine. 
2. Erst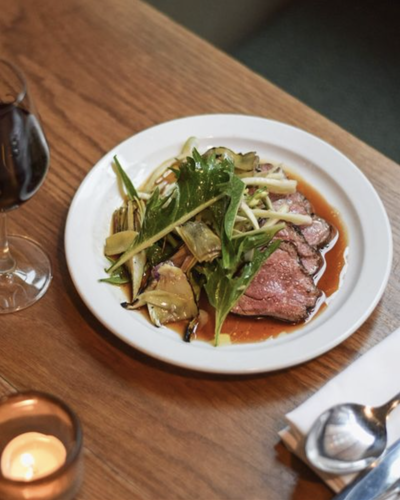 Erst is one of the newer kids on the block, but it cannot be denied that they're made their stamp on the urban village neighbourhood. How do we know? Well, it is almost impossible to get a table. A small and intimate place, a couple of doors down from Mana, separately the pair represents a unique dining experience, combine them together and you get a hub of restaurants that are taking Ancoats' culinary experience to the next level. If you're thinking of booking somewhere not too stuffy but equally impressive, then Erst will not disappoint - just make sure you're organised! 
3. Rudy's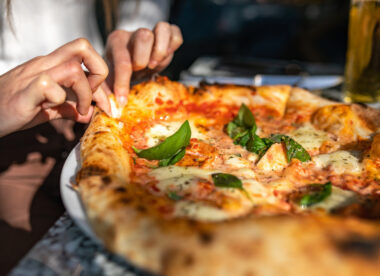 Everyone recognises the iconic Rudy's restaurant front and the queue of ten to twenty people typically waiting to get a seat in the indoor/outdoor restaurant, no matter the hour. The pizzeria concept first opened on Ancoats' Cutting Room Square. What is not to love about the relaxed atmosphere, humble interiors and a menu worthy of a lunchtime splurge or midweek catch up treat with friends? It is no wonder Rudy's has expanded across the North West and Manchester so quickly. If you're in Ancoats for a meeting or if you're meeting friends, you can't go wrong with Rudy's (unless you're after the GF menu)!  
4. Sud Pasta formally Sugo Pasta
Sud, Sugo, potato, potahto. Who knows? Whatever you want to call it, in our opinion the best pasta restaurant in Manchester. Every item on the menu, although only short, cannot be faulted. The worst thing about Sud is not knowing what to pick because everything is so tasty, and perfected. If you're not counting the calories then Sud Pasta has to be the restaurant of choice. On the corner of Blossom Street in Ancoats, opposite one of the most stylish wine bars in Manchester, Blossom Street Social, you can start with a tipple opposite and walk over to enjoy a huge portion of freshly made pasta. If you're not planning on having a late one (because you won't be physically able to), then Sud is a perfect place to meet up with friends and family. 
5. Nam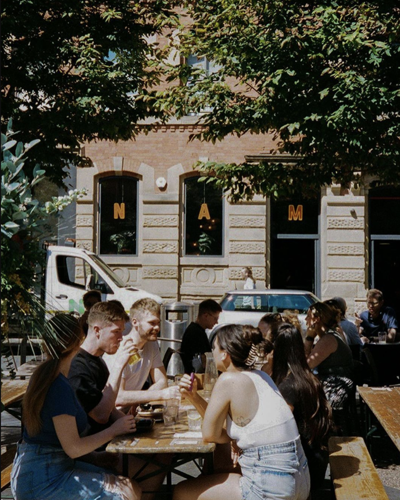 Nam is one of those quality establishments that everyone knows of if they're local. The Vietnamese restaurant is cleverly called Nam, but what is even more interesting is that the restaurant owner is also called Nam, THE Nam is potentially one of the nicest guys in the industry and the rest of the team are just as delightful. Thinking of organising a big get-together with friends and family or colleagues? Then Nam is the obvious choice in Ancoats, with its private dining events space in the basement that comes complete with a bar and DJ decks. And if you don't fancy venturing far then Nam can cater for your party from £15pp (and my god are those noodles tasty), and if you're looking to impress, they even do snazzy takeaway cocktails. 
6. Mana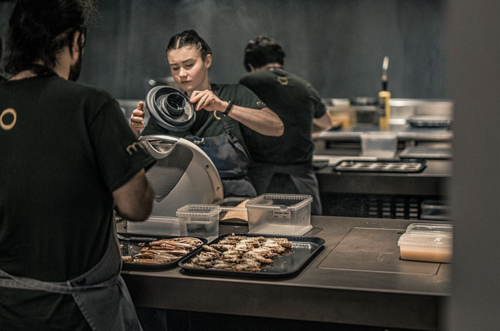 We couldn't write a roundup of the nicest places to eat in Ancoats, or even in Manchester without mentioning Mana. We're very lucky to have Manchester's only Michelin Star restaurant in Manchester in one of Manchester's coolest neighbourhoods. According to the Michelin Guide, "High quality cooking, worth a stop!" and we couldn't agree more. Being a Michelin Star restaurant it isn't going to be the type of place that you go to once a fortnight but if you do have a special occasion coming up then you can't get much more impressive than Mana. Think fine dining without the fear of random flavours (aka not an experience curated by the likes of Heston Blumenthal. Fine dining isn't to everyone's taste or budget but if it is then we certainly wouldn't hesitate to say Mana is the best in the city at it, and that's not just because the experts say so because what do they know really!? 
7. Viet Shack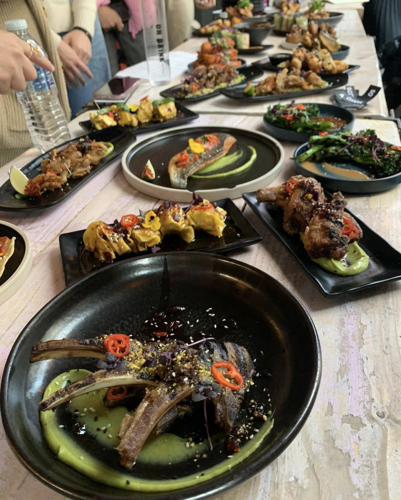 Originally a market stand at the Arndale Food Market, Viet Shack opened its first restaurant in Ancoats but stayed true to its roots. The chilled walk-in-only restaurant is ideal for a mid-week or weekend casual date night or even a takeaway. There are so many great dishes on Viet Shack's menu but our firm favourite has to be the 'Quack Fries' aka delightful duck chips. You can't miss Viet Shack on Great Ancoats Street, depending on Manchester's weather, there are usually people sitting outside tucking into spring rolls and enjoying a beer. The street food menu is great and reasonably affordable for Manchester city centre. 
8. The Firehouse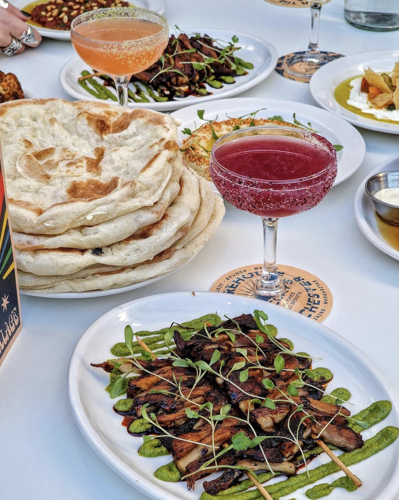 What an establishment. The Firehouse has been a great addition to the Manchester food scene and an even better addition to Manchester's night life. If you're up for a night out but don't fancy a chaotic nightclub then Firehouse is for you. From parmesan potatoes to a dancing platform, DJ set and disco lights, Firehouse has it all under one roof. The menu isn't extensive but what they do, they do well. You can book tables of 2 up to 20 so it is the perfect place for a birthday meal or night out with friends. You can't go to Firehouse without trying their margaritas, we don't know what the mixologists do but they have got to be the best margaritas in Manchester. 
9. Elnecot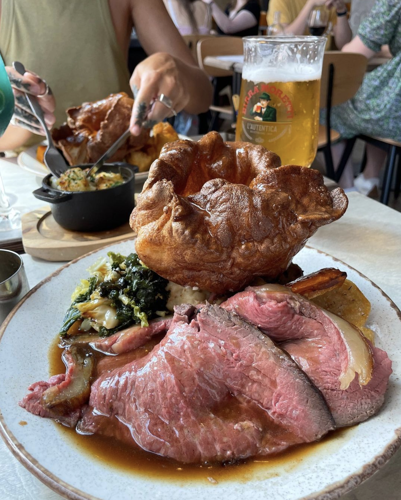 Elnecot, breakfast, lunch and dinner. From lamb kebabs to poached eggs at bottomless brunch, is there anything this restaurant can't cater for? They even welcome our four-legged furry friends. No matter the time of day, there is always a good buzz at Elnecot and it's a favourite with our residents in Ancoats on a Friday. Coined "Ancoats' neighbourhood bar and kitchen", we couldn't agree more. Elnecot has an unbelievable Happy Hour on a Friday so it is no wonder our residents flock there for a Friday tipple. We couldn't talk about Elnecot without mentioning their Sunday Roasts, think divine gravy, beaut fluffy roasties topped with one gigantic Yorkshire pud, all for only £14.50 - £18.00. What's even better is that, unlike most places where it is a Sunday dash to get a roast before they run out, Elnecot serves roasts until 8pm, so no need to rush if you're fancying a lazy Sunday. 
10. Canto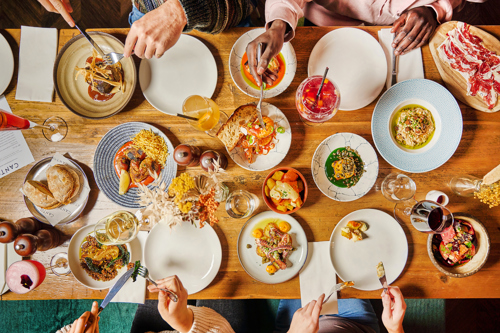 The best croquettes in Manchester, full stop. It is hard to put your finger on why Canto deserves to be in our top ten because they do everything so well. From the lush interiors to their juicy meatballs (yes we do also rave about their other dishes), it is a great addition to Ancoats and let's be honest who doesn't like tapas? Any other worldwide cuisine you can easily replicate at home but who has the time to rustle up ten different dishes for one meal? Let someone else do the cooking for you and book yourself a table at Canto.