Manchester has built a reputation for being a cultural hub and a place where endless possibilities arise. It is no wonder why, in the past five years, there has been an influx of young professionals moving to Manchester city centre. Living in Manchester means you get the best of both worlds; a perfectly sized city where you are part of a metropolitan community and everything is within walking distance, but not too small that you get bored, there are heaps of things going on from open-air food halls and festivals to international football, there really is something for everyone. Not to forget the better standard of living for the average young professional compared to living in the capital. It is no wonder why Manchester is in high demand. 
Throughout the city and suburbs, there are pockets where young professionals like to rent relatively affordably. Attracted by the independent restaurants, bars and shops and easy to get to transport links. We have rounded up the coolest places to live as young professionals.
1. Ancoats 
Ancoats is known for being one of the coolest neighbourhoods in Manchester and is very popular amongst creatives and foodies. The industrial mill lined streets, a blend of old and new are overflowing with independent restaurant ventures, bars and pop-ups. Enjoy alfresco dining? Then Ancoats is the place for you. Despite Manchester's reputation for having terrible weather, Ancoats has plenty of outdoor dining space, and most popularly has to be Cutting Room Square also known as Ancoats Square. The square is bursting with some of Manchester's best food scene, from renowned Rudy's to the elegance of Elnecot's restaurant and seasonally changing menu. 
Located over the street from the inner city centre, the urban village is extremely well situated, with Piccadilly Station and Victoria Station all within 5-minutes walking distance.  
Rental prices are slightly more expensive in this area, you pay a premium for having a Michelin Star restaurant and TimeOut favourite spots all on your doorstep. Since its revival, Ancoats is consistently voted to be one of the coolest places to live in the world and we couldn't agree more. 
Check out our latest development in Ancoats here.  
2. Northern Quarter 
Northern Quarter as the name suggests, represents a quarter within the city centre between Piccadilly train station and Manchester Arndale, it is very near to Ancoats, and in fact just over from 'Great Ancoats Street' is the divide between the two neighbourhoods. Aside from the glitz of Spinningfields, Northern Quarter has longstanding been Manchester's go-to nightlife area. The abundance of quirky bars, restaurants, pedestrianised graffitied streets, Sunday markets and record stores make for a neighbourhood that every hipster wants to live in. 
One of our favourite Northern Quarter spots, and not just because it is dog friendly is Mackie Mayor. 
Aside from the street food and thriving independent scene, Northern Quarter is known for its striking architecture. The area is regularly used for filming movies and loved series such as Peaky Blinders. And despite being so close to the city centre, the area has a distinct feeling that people fall in love with. 
The Northern Quarter is constantly getting regenerated, where used to lye open carparks now are impressive and sought-after apartments. 
Check out what is available from the Northern Group in in the Northern Quarter here.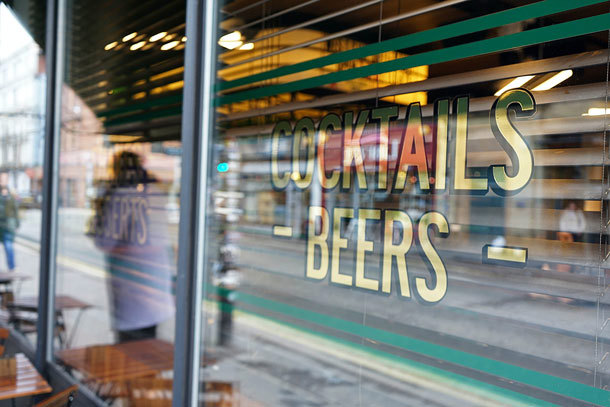 3. Castlefield 
Castlefield is simply one of the most peaceful neighbourhoods within the inner city centre. It is no wonder why people from all walks of life flock to this neighbourhood. The streets are intertwined with canals and outdoor spaces. There is some stunning architecture to be found here, reminiscent of Manchester's industrial history.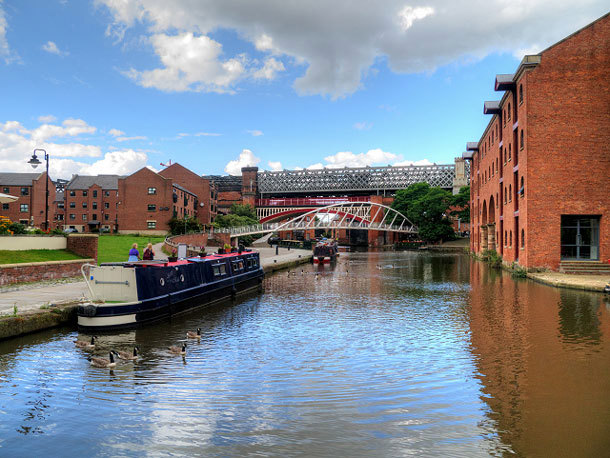 Despite being at the south and bottom end of Deansgate, there is a lot going on in this well-known Manchester destination. Mid-week you'll often find gigs happening at the Castlefield Bowl, an outdoor venue surrounded by moored canal boats, or you can wander over to HOME, a cultural arts centre, perfect for those winter evenings in Manchester. 
Castlefield is a popular residential area, not only because of the abundance of casual outdoor drinking spots but also because of the choice of apartments from warehouse conversions to modern with stunning views overlooking Manchester's industrial heritage. 
If you're 'outdoorsy' but equally love living in the city then Castlefield is for you. The area is a good blend of indoors with the chilled indoors. And we think what is really going to make the area is the opening of the Castlefield Viaduct, set to be opened in 2022 by the National Trust as Manchester's newest outdoor space - think New York High Line vibes.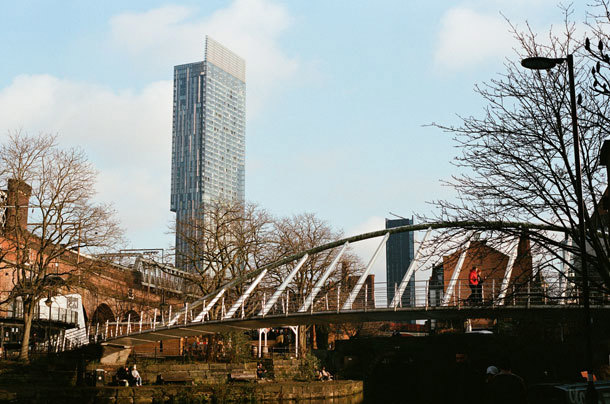 4. Prestwich  
Prestwich and particular South Prestwich is a popular up-and-coming suburb in the north of Manchester with its own bustling high street. The area is in high demand amongst young professionals and young families, looking to move slightly out of the city centre. Great transport links, and everything you could need on your doorstep including Manchester's biggest park, Heaton Park make the area idyllic. Think Park Run followed by a lush brunch with friends in one of Prestwich's many brunch spots. 
A fast-improving roster of restaurants and bars, as well as a friendly young community, are at the heart of what Prestwich is evolving to be. Destination renowned restaurants like Osmo call Prestwich home. It is no wonder why young families looking for a home in a cool suburb of Manchester that isn't pretentious and is within walking distance of everything are choosing Prestwich.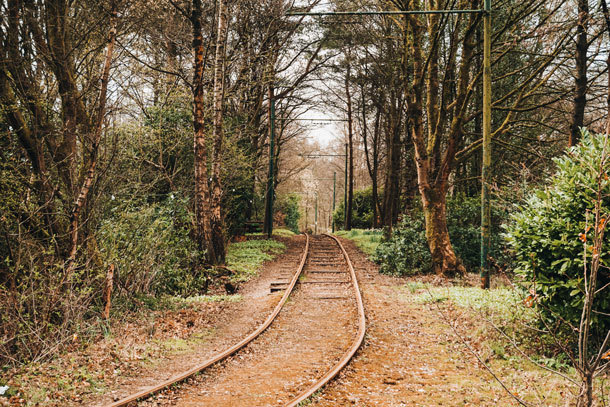 5. Chorlton
Chorlton is a suburb in South Manchester, it has two main high streets, and recently has had a property boom that isn't slowing down. The neighbourhood is diverse and uniquely liberal. A mix of young professionals, families, and dog lovers. Chorlton distinctively has three parks on its doorstep which is something of a luxury in a city like Manchester.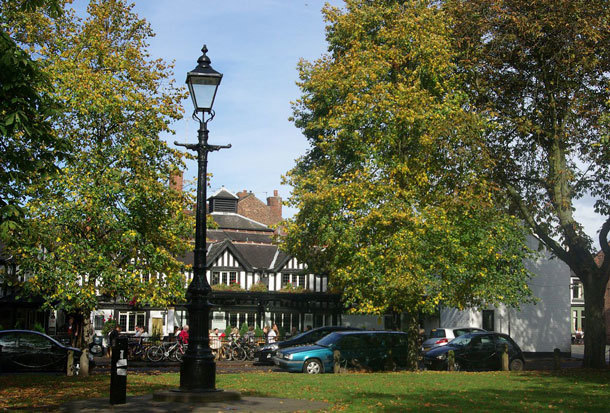 There are plenty of amazing independent restaurants, pubs and bars along the bustling Beech Rd - meet - Wilbraham Rd, a lengthy high street home to craft markets, independents, quirky grocery stores, bakeries and butchers plus a metro tram stop taking you straight to the city centre. Chorlton is full of hidden gems, and not-so-hidden gems. The likes of The Laundrette and Manchester's number one restaurant, Ban San Juan bring visitors from all over Manchester and Cheshire. 
The quirky Cheshire village style area surrounding Chorlton green is fastly becoming not as affordable as it once was but is much more affordable than its counterpart, Didsbury in South Manchester. Equally, Chorlton has beautiful architecture and a thriving independent scene but has more of a community feeling.