Northern Group, a leading Manchester-based property group, has partnered with electric vehicle charging network and fellow Mancunian Be.EV to install two new rapid electric car chargers on Wilmslow Road in Didsbury.
Switched on and now available for public use, the project sees Northern Group join the largest public EV charging network that is connecting communities across the North of England and boasts impressive reliability (99.6% operational availability across the entire network).
The property group selected Be.EV as its provider due to the business's all-inclusive support, from designing and installing bespoke charging solutions through to ongoing maintenance of the chargers, which will ensure each site's longevity and reliability.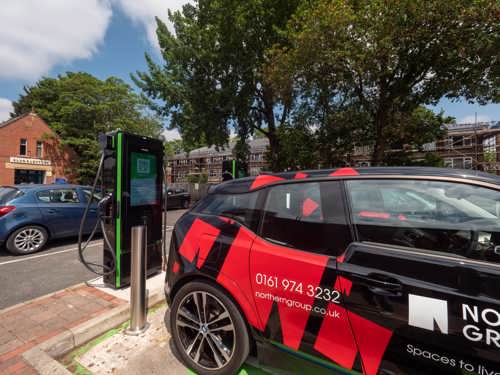 Each rapid charger can charge a typical EV to 80% in 20 minutes to an hour, compared to 4-6 hours on a 7kW fast charger. The rapid technology allows more cars to be charged in a day and become free again more quickly for the next person – a key factor in ensuring a smooth and convenient charging experience.
Northern Group's ongoing relationship with Be.EV is a reflection of the property developer's wider environmental goals and commitment to building and retaining properties with a focus on sustainability and longevity. 
Asif Ghafoor, CEO and co-founder of Be.EV said: "We're delighted to celebrate our first installation with Northern Group in Didsbury on Wilmslow Road. When Be.EV started, Nathan and his team were the first major property contractor we approached. We quickly built a great relationship, working together closely to design a great charging experience for tenants and their customers on their future property developments.
"Northern Group really understands the value of providing reliable, high quality charging facilities on their sites and using EV charging to drive new income streams - other property developers should take notice of this gold standard approach.
"We look forward to working together on future projects."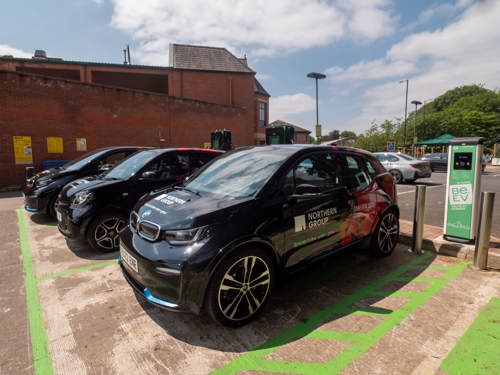 Paul Dobbs, Chief Operating Officer of Northern Group, said:
"We've seen an increase in demand for EV charging, and realised how beneficial it would be, not only for the environment, but also for our tenants to have the convenience of easy access to electric chargers at our developments. Providing a service of this high quality is all part of our mission to future-proof our sites and ensure that they're just as efficient in 30 years as they are today.
"Joining forces with Be.EV marks a significant milestone in our sustainability journey and we are confident that they'll continue to operate and maintain the new charging points at Wilmslow Road with the same level of excellent service they've provided to us throughout our partnership.
"As a Manchester-based company, we take great pride in partnering with a local industry leader like Be.EV to drive the adoption of electric vehicles and support the growth of eco-friendly transportation solutions in our city. It's great to work so closely together with a company that shares the same innovative values as us."