If you own a rental property in the vibrant city of Manchester, advertising it effectively is crucial to attract the right tenants and maximise your returns. With a competitive rental market, it's important to stand out and showcase your flat/apartment/property's unique features. In this blog post, we will quickly guide you through some essential steps and strategies to help you advertise your property to rent in Manchester.
Jump to:
1. Determine Your Target Audience
Before you start advertising your rental property, it's important to identify your target audience. Consider the type of tenants you want to attract, such as students, young professionals, families, or retirees. Understanding their needs and preferences will help you tailor your advertising efforts accordingly.
Questions to consider:
Who is your ideal tenant?
What are their demographics?
What amenities and features would they value the most?
2. High-Quality Photos and Descriptions
First impressions matter, especially in Manchester's competitive rental market. Ensure that you have high-quality, well-lit photos that showcase the best aspects of your property. Take pictures of each room, highlighting unique features and any recent upgrades. Write clear and concise descriptions that emphasise the property's key selling points, such as its location, size, amenities, and nearby attractions.
Questions to consider:
Do you have high-resolution photos of your property?
Have you highlighted the property's best features?
Have you mentioned any nearby amenities or attractions?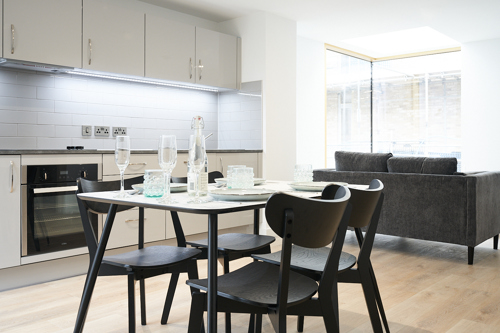 3. Utilise Online Listing Platforms
Online listing platforms are invaluable resources for advertising rental properties. Make sure to utilise popular platforms like Rightmove or OnTheMarket, as they have a wide reach and attract a large number of potential tenants. Create compelling listings with attention-grabbing headlines, thorough descriptions, and clear contact information.
Questions to consider:
Have you posted your property on popular listing platforms?
Is your listing complete and accurate?
Have you included your contact information for potential tenants to reach you?
4. Work with a Local Lettings Agent
Working with a lettings agent that is local to the area can be highly beneficial when advertising your rental property. They will have a deep understanding of the local market and trends, as well as their own database of potential tenants that may be interested in your property for rent. Find a reputable agent who specialises in rental properties in the area and discuss your requirements to ensure they can effectively promote your property. Northern Group specialises in managing rental flats and properties across areas in Manchester including Ancoats, Northern Quarter, Altrincham, Didsbury, New Islington, Salford, Castlefield, Ardwick, Ashton-under-Lyne, etc.
Questions to consider:
Have you contacted local agents who specialise in rentals/lettings/property management?
Have you provided them with detailed information about your property?
Have you discussed your requirements?
5. Leverage Social Media
In today's digital age, social media platforms offer powerful tools for advertising your rental property. Utilise platforms like Facebook, Instagram, and Twitter to reach a broader audience. Create visually appealing posts, accompanied by engaging captions that highlight the unique aspects of your property. Consider joining local groups or forums dedicated to property rentals and lettings in Manchester to increase exposure.
Questions to consider:
Do you have content that you can use for social media posts?
Are you regularly posting updates about your property on these platforms?
Have you explored local groups or forums to share your listing?
6. Engage in Effective Communication
Promptly responding to enquiries and providing accurate information is crucial for attracting potential tenants. Maintain good communication throughout the advertising process, promptly answering phone calls, emails, or messages. Schedule property viewings at convenient times for prospective tenants, and ensure the property is clean, well-maintained, and ready for showcasing.
Questions to consider:
Do you respond to enquiries promptly?
Have you prepared the property for viewings?
Are you available to answer questions or provide additional information?
7. How Much Rent to Charge
Setting the appropriate rent for your rental property is a crucial aspect of successful advertising. Pricing your property competitively ensures that it aligns with the market rates and attracts potential tenants. Consider factors such as location, property size, amenities, and local rental trends when determining the rent.
Questions to consider:
Have you researched the current rental market in Manchester?
Are you aware of the average rental prices in the local area?
Have you considered the unique features of your property that could justify a higher or lower rent?
How much is your rental property in Manchester worth? Book a free valuation to find out.