It's beginning to look a lot like Christmas in Manchester, with the return of the Markets on Friday 10th November. Running until Thursday 21st December, we've rounded up everything you need to know about what's on this year, so you can plan your visit and make the most of the festivities in the city.
It's also a special year for the Christmas Markets in Manchester, as this year marks 25-years since they first launched back in 1998, talk about nostalgia! If you've not visited in a while, or ever at all, it's the perfect time to head into the city and sample the very best of what Manchester has to offer.
There are over 225 stalls across nine city centre sites this year, with the iconic ski chalet market stalls once again taking over Piccadilly Gardens. Market Street, Cathedral Gardens, Exchange Street, New Cathedral Street, St Ann's Square, Exchange Square, The Corn Exchange and King Street will also be transformed into a festive wonderland, with plenty of activities for all the family.
Speaking of family time, the heart-warming Manchester Christmas Parade takes place on Sunday 3rd December and word on the street is that it's due to be even bigger than last year's show-stopping performance. Festive Sundays are also back, with entertainment pop-ups designed for everyone to enjoy.
The Manchester Christmas Lights Trail is also making a comeback and is the ideal selfie spot for those festive social posts. Think walk-through baubles, an iconic Manchester bee and Santa Claus, back on his perch above Central Library on St Peter's Square. If ice skating is more your thing, Skate Manchester will be back in Cathedral Gardens for you to show off your skills.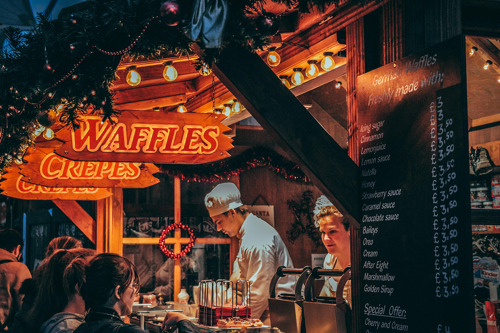 Winter Gardens
Piccadilly Gardens will once again be transformed into a Winter Garden, with a mixture of craft and gift stalls alongside plenty of food and drink offerings. The Scandi tipi will return covered with lights and log fires to keep you warm while you watch the live entertainment or music that will be on every evening. The 4 metres Manchester Christmas Windmill will also be housed in this location and is one of the most iconic sites of the Manchester Markets year or year. Food-wise, think fresh churros and Korean corn dogs followed by a winter tipple and exclusive cocktail to wet your whistle. 
St Ann's Square and Exchange Street
St Ann's Square is the oldest site and the one that housed the first markets in the city, 25-years ago. This year, you can bag yourself plenty of continental cheeses, the Manchester Shop has plenty of gift ideas and if you're feeling peckish while you shop, why not try the authentic paella or salt and pepper chicken from Northern Quarter legend, Yard & Coop.
Market Street
Known as the shopping street in city centre Manchester, the markets on this renowned street are no different and will be home to an array of crafts stalls and exclusive gifts to treat your loved ones too. There will be over 40 stalls, with treats such as tweed hats, spiced rum, cheese truckles and Christmas decorations for days. 
King Street
Now this may be our favourite area of the markets and if you know, you know. If you don't, allow us to tell you. King Street is THE place to head if you're a foodie wanting a taste of Manchester's finest restaurants. With authentic Italian deli, Ballaro serving fresh cannelloni and arancini and El Gato Negro bringing a taste of the Mediterranean, it's not to be missed if you're more about the food. Fear not though, you can still pick up a gift or two from the range of craft stalls, with some of the most popular being housed around this area. 
New Cathedral Street
More foodie favourites and your go-to for high-end gifts, New Cathedral Street is definitely worth a visit. Surrounded by hand-made ceramics, candles and local spirits, not to mention The Witch House is perfect for a beer and currywurst while you take a break from shopping.
Exchange Square
One of the larger market sites, this is the perfect location for a glass of mulled wine with your mates. It's also the location to try the fan-favourite Yorkshire pudding wrap from Porky Pig, as well as those Insta-worthy mini pancakes. 
The Corn Exchange
Here you'll find one of the broadest selections of gifts, from handmade jewellery and artisan chocolates, to Nepalese woollen jumpers to handmade pies. Need we say more?
Cathedral Gardens
Live entertainment every Thursday to Sunday, while skating all the way to New Year's Eve, Cathedral Gardens is open daily and probably the best place for families and couples alike to immerse in the festive spirit, even when the big day has passed. 
Head to Visit Manchester for more information including details on opening times, parking and the location map.