2022 was an eventful year, from the cost of living crisis, the passing of Queen Elizabeth II, and the Russian invasion of Ukraine. What's been happening in Manchester's commercial property market? This 2022 Manchester commercial property outlook will reflect on the latest commercial property trends, as well as Northern Group's forecast for what we can expect in the commercial property market in 2023 which we're very excited for. 
The commercial property trends of 2022 
To gauge what we can expect to see in the commercial property market, let's explore what happened in 2022 for Manchester:
1. This year has seen a great recovery from the pandemic 
Manchester was hit hard by the COVID-19 pandemic. Research from the Centre For Cities revealed the pandemic had cost businesses over 41 weeks of potential takings and the economic impact in Manchester was potentially the worst out of any city or town centre in the northwest. 
2022 was a year of commercial growth
Despite this, Manchester was able to bounce back with success and resilience. The Manchester Evening News recently described the city to be back to its "bustling best". 
Sir Richard Leese, the Leader of Manchester City Council, said: "The amount of investment which continues to take place in Manchester is phenomenal and demonstrates the continuing confidence in the future of the city. Manchester's economy is in great shape to recover strongly from the COVID-19 pandemic." This has trickled into commercial success, as we will see from the following points.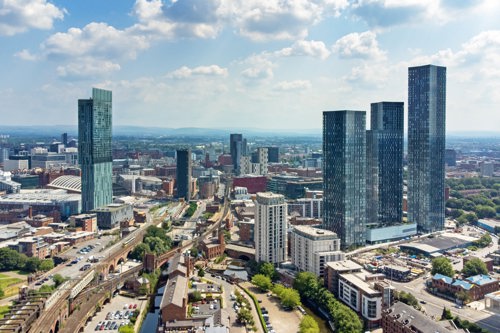 2. The office has been redefined in 2022  
This time last year, we were all unsure of how much the pandemic had permanently changed the workplace. What is the real purpose of the office if so many businesses enabled remote work to both be possible and a success?
The future of office work
However, our stats show this hasn't been the case in Manchester. A Tech and Creative Industries capital of The North, Manchester has seen a huge resurgence in businesses expanding in the city centre. Employees and employers demand all-inclusive community and events-led workspaces that bring businesses and industries together.
Our sister brand Colony CoWork has reported one of the most successful trading years since opening in 2017, with no signs of things slowing down as the brand expands, opening multiple new locations across Manchester.
Despite many new co-working spaces entering the market, partnering workspace brokers and agents pass on that there still is a huge demand for office space in the city with Greater Manchester "earmarked to be one of the biggest growth areas in the country". Office-based employment is expected to increase by 5% over the next five years with over 12,000 new jobs to appear in the professional, tech, and scientific sectors over the next decade. 
Criteria for offices 
At Northern Group, we revive historic Manchester with our development projects. We avoid building new for the sake of it and instead look at Manchester's incredible infrastructure, and improve it for the modern needs of workers in 2023. This sustainable approach is in line with what businesses are looking for out of their office space. 
We have witnessed a huge demand for ESG-compliant office spaces. These are buildings of the future as they prioritise sustainability and the comfort of people occupying these spaces based on current human behaviour trends. It's no longer just an ideal to have an ESG-compliant office space, it's essential to future-proof a business. 
Businesses on the hunt for office space are searching for this. Working from a sustainable hub increases their funding opportunities and also allows them to recruit and retain the best internal talent. Professor Magali Delmas from UCLA said: "Companies that voluntarily adopt international 'green' practices and standards have employees who are 16 percent more productive than the average."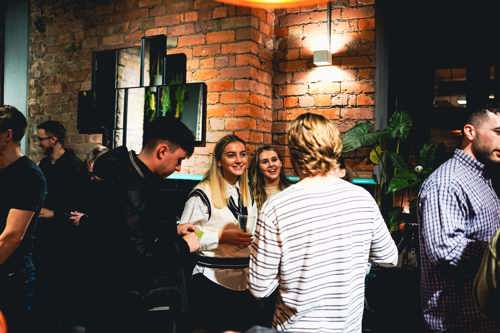 3. Manchester is the prime spot for startup success 
What is driving last year's commercial property market boom is startup companies. This is why they're choosing Manchester:
Affordability - Startups are attracted to the city life that Manchester offers, without the prices of London. Lower rent means they can invest more money into their business operations and can hire more people. 
Hyperfast connectivity - ITS Technology Group is deploying an extensive full fibre network across Manchester, offering speeds up to 1000 megabits per second. The network comprises three spines to serve businesses in areas including Droylsden, Lower and Higher Broughton, Ancoats, and Cheetham Hill. This level of connectivity drives the productivity and capabilities of startup businesses. 
Connections - Manchester is known as a city of access. There are excellent transport links to visit clients in nearby York, Liverpool, Leeds, and more cities. This location breeds fast-rate networking and possibility. 
Take a look at some of Manchester's commercial properties.
4. Young people have been moving to Manchester in their masses, but why?
Manchester has the highest student population rate outside of London, and these students are staying in the city after finishing their degrees. There is a huge tenant demand with huge amounts of people moving to Manchester aged 24 - 37. 
What's causing this huge tenant demand?
Job opportunities - Manchester is rich in opportunities with huge names such as  BBC, Kellogg's, PZ Cussons, and Auto Trader, which are now based here.
Affordability - Manchester's residents can maintain a balanced work-to-life balance because their salary goes further. To buy a house in London, the average price is £516,285, whereas in Manchester it is £210,171. The city has also reduced their transport prices in 2022. You can have one week of unlimited bus travel in Manchester for just £21.
What does this mean for commercial property? 
With graduate retention and a continual influx of young workers to the city, businesses are hiring the best of the best. This drives forward their business strategies, resulting in continuing their office lease or upgrading to a larger space.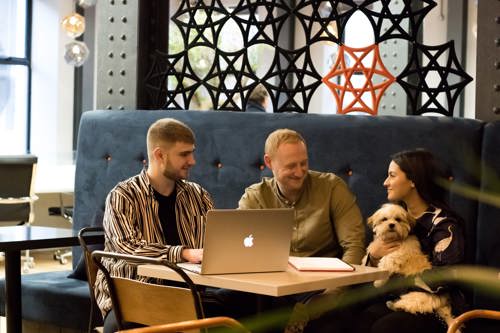 Northern Group's Manchester commercial property forecast for 2023  
Here's our prediction of 2023 commercial property trends: 
Inflation will stabilise slowly throughout 2023 and we will continue to see an increase in established businesses and startups looking for new workspaces.  
Well-funded investors will re-enter the market from Q3 with investment strategies prioritising smart buildings of the future.
There will be a drive for community-led, flexible workspaces whilst the nation experiences a shift away from traditional 'Serviced Office' spaces.  
2022 has been a year of change and uncertainty. Yet, Manchester has shown resilience to power through the economic damage of the pandemic. To summarise the Manchester commercial property outlook, we're still getting used to the post-pandemic world. Inflation has affected all markets, including the commercial workspace market, but it has prompted a re-evaluation of what we need from commercial space. There are currently flocks of businesses investing in Manchester and those businesses are demanding the next era of workspace. 
We're here to help you unlock better returns on your commercial property; we push your investment to the next level. Speak to an expert today.