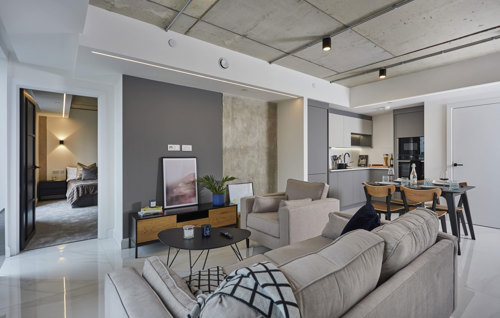 At Northern Group we pride ourselves on our trailblazing, go-getter attitude, always looking to push the boundaries of the norm, and that's exactly what we've done with our latest and greatest space, One Silk Street. An intelligent, sophisticated combination of luxurious and modern 1, 2 and 3-bed apartments across 5 floors!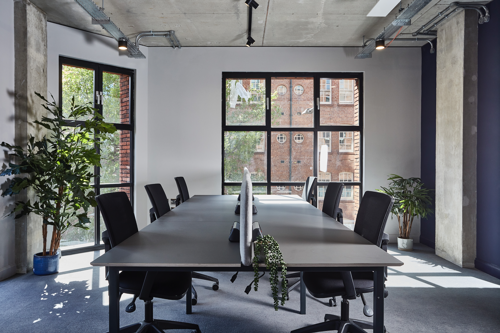 Our newest flagship development is a shining example of luxury - think 75 apartments with floor-to-ceiling windows, copious amounts of natural light, plush carpets, integrated appliances and Calacatta marble-effect polished tiles - not to mention the sleek and stylish coworking offices on the ground, first and second floors too, the newest and one of the biggest additions to our Colony coworking spaces! All located in and around a number of Ancoats' longest-standing landmarks such as the old Shamrock pub, Sankey's Soap factory and Wing-Yip Superstore, One Silk Street can be found parallel to Bengal Street and Radium Street, between Primrose Street and George Leigh Street, a short distance from the main roads of Great Ancoats Street, Oldham Road and the A665 Ring Road.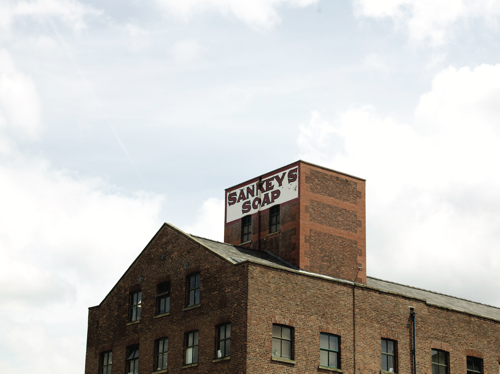 Ancoats itself has a colourful history, initially one of the poorer and less developed parts of Manchester, known as the World's first industrial suburb, the area was once home to a gritty textiles industry with cotton mills and factories on every street corner, as well as what was described as the Manchester slums. Today, however, there's a different story to be told, thanks to a wealth of investment and regenerative projects Ancoats, now better known as Ancoats Urban Village, is one of the most sought-after places to live in the UK – something we're pleased to be a part of! Notorious for good quality bars, restaurants and general eateries, the well-renowned Halle Choir and Orchestra, and the gorgeous Ancoats marina, the area has come a long way from its gloomy industrial past. The likes of Sugo Pasta Kitchen, Michelin-star recognised Mana, Erst, Edinburgh Castle Public House, Blossom Street Social and Elnecot populate the streets and squares now, serving without a doubt some of the best food and drink in the city.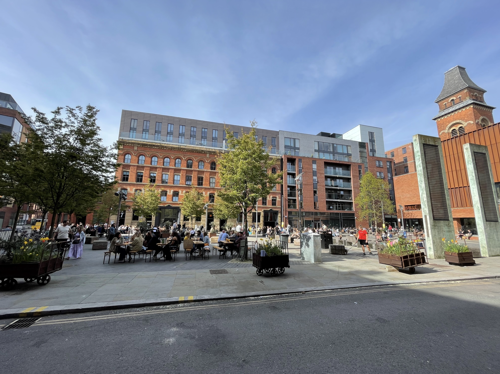 The smartly fashioned red-brick exterior of One Silk Street is a nod to Ancoats' mill heritage, helping the building boldly impose itself on the north-Manchester skyline. It also gives both our residential and commercial tenants uninterrupted, 360-degree panoramic views across the city towards the Pennines and Peak District. We're undoubtedly pleased with the newest addition to our already excellent portfolio of developed and managed properties, we know you will be too!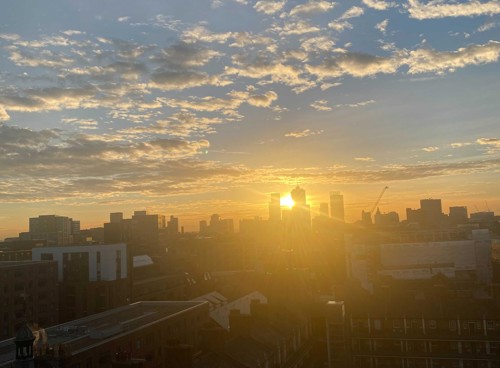 Not to mention the sleek and stylish coworking offices on the ground, first and second – the newest and one of the biggest sites for our Colony coworking spaces.